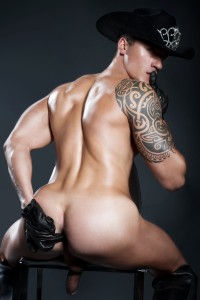 Are you ready to get to know the euro porn hero Jay Roberts?
Yes! TBF had an interview with the smart hunk Jay! As we all know, both on the screen and the stage he can be hot, sexy and naughty all the way!
Now let us just proceed, time to dig Jay Roberts inch by inch!
Stage Name: Jay Roberts / Height: 6'2″ (187 cm) / Weight: 189 pounds (86 kg) / Position: Versatile / Cock size: 8″ uncut
ENJOY!
• First of all, it's a conventional but all-time favorite question – How did you step in to the porn industry?
It's a question I am asked all the time, as I guess most porn stars are because it's definitely interesting. In my case, I had been working a very typical 9-5 job in the business world and always had this fantasy of making porn. I decided it was time in my life to make a change and I jumped into it. I truly wanted to have sex with all the hot guys I had seen in movies for so long, nothing more than that. I have never regretted it. I am living out my fantasy and I love it. I would encourage everyone to follow their dreams because when they come true, it's brilliant.
• What was your most memorable scene and why?
That's a very difficult question to answer because I have enjoyed filming so many of my scenes, in many different styles with many different types of guys. However, the two most recent scenes I shot for Lucas Entertainment with Rafael Carreras and Adriano Carrasco were very special. Both were shot in Ibiza, which is the perfect location! Rafael and Adriano, both incredibly hung uncut Latin guys, which I think my fans know are a favorite of mine, are so powerful, so passionate and they are tireless tops. I felt like I was getting the fuck of my life both times.
• What are the big differences between studios in Europe and North America?
I have only worked in the United States, so I cannot speak for all of North America, but the main difference between companies in Europe and those in the United States is the emphasis they put on stardom. In Europe, guys fuck on camera for the fun of it and don't worry about how famous they might become. In the United States, where studios have exclusives and box covers are much more important, there is more of an emphasis on being a porn "star" rather than a performer. However, when the scenes actually start filming and I'm with a hot guy and we are into each other, great sex is great sex, so I am so excited I have been given the opportunity to fuck for the camera on two continents. If anyone wants me to visit Brazil or Argentina, where there are so many gorgeous guys, I would happily make it three continents!
• What are your hobbies and how do you spend your free time?
You aren't going to like the answer to this one because I think everyone has this idea that porn stars go out wildly partying all the time and fuck every guy they meet. I have really simple hobbies. I love going to the cinema and go every chance I get. I love traveling as well. I grew up with a lot of culture and I continue to enjoy it. Of course, I do have my fabulous PLAY>TIME party every Friday in London where I can totally let loose and enjoy the best club night the city has to offer, but the rest of the nights, I enjoy hanging out with friends, watching TV and even reading. Yes, I'm a porn star who reads, can you believe it how boring I am?
• Do you have close porn star friends? Can you tell us about them?
I am very lucky to have met some wonderful people in this industry. I think anyone who has read even a handful of my blog entries knows that photographer Dylan Rosser is my best friend. He's not a porn star, but he's shot them all. I do try to keep a life of my own that is not always wrapped up in porn, so though I consider so many of the great guys in the industry good acquaintances, they are not necessarily my best friends. I have a lot of friends who get along with their coworkers in their offices, trust them and really like them, but they don't hang out socially too much. I guess that's the best way to describe it me and my fellow hottie porn stars (though after a few drinks late at night anything can happen :-).
• Do you travel around the world often? I remember one of your personal videos from Dubai, which was quite impressive to me. What is your favorite city/country and why?
I do get to travel a lot and I am very lucky because I love experiencing new places. It's easier for us in the EU because we can fly to so many amazing cities on a whim. I've been to Spain, Italy and Switzerland in the past month alone. I always enjoy visiting my family and friends in Slovakia too. Dubai was awesome, one of the best trips ever. Picking a favorite is hard. How can you compare skiing in Gstaad with the great beaches of Barcelona or the culture of Paris? Then again, I have never been to Canada, so maybe when someone finally invites me (hint, hint), Vancouver could be my new favorite place!
• Congratulations on your tremendous achievements last year. What's your goal in 2012? (Or could you tell us about your long term and short term goals?)
Thank you so much for that! Yes, 2011 was so fucking exciting! I visited the United States for the first time, filmed scenes for nearly all of the biggest porn companies, including living out one of my all-time dreams in working for COLT Studios. I started PLAY>TIME and watched it grow into London's most successful party. For 2012, I cannot quite reveal all just yet, but I can tell you that it's going to make 2011 look puny! It's only the end of January and already PLAY>TIME is being taken to Paris, I've had nearly half a dozen movies released and my web site is taking off bigger than ever. Trust me, you are going to be seeing a lot more of Jay Roberts than you ever expected and it's going to be hot!
One of my royal readers asked:
• You have good un-bulky definitions. What's your fitness routine and how do you divide between weight lifting and cardio?
I do not typically answer fitness questions because everybody has a different physique, so it's not fair for me to say what works for me will work for anyone else. Believe me, I consider myself lucky that I have the body type I have, but it also takes a lot of dedication, time at the gym, healthy eating and healthy living. The best advice I can give is hire a trainer, get his professional advice and always keep it in mind. Eat well, do cardio and get lots of rest! Oh, and don't forget, sex burns a lot of calories, so have lots of sex.
• We have known each other for quite a long time online. How do you think of (or like) TheBlueFantasy.com?
I love going to your site because it has so much information. You guys cover everything! There are great interviews and smart reviews. You do not stick just to the major studios, but review lots of website scenes too, so I can see trends and learn what viewers are really into. Believe it or not, I read more than just the gay porn stuff. The site is excellent and I would tell everyone to become a faithful reader.


• Say hello to TBF readers please.
Hey guys! This is Jay Roberts, hopefully your favorite porn star. Watch my scenes, follow my blog, "like" my facebook page and read me on Twitter. Above all, email me or put notes on facebook and Twitter. I love interacting with you guys. I need your feedback to tell me what you want Jay Roberts to do, so I welcome all comments. I may not have a chance to reply to everything, but I promise you, I read absolutely everything sent to me and I take it all into serious consideration. My fans are the reason I continue to do all of this, so thank you! If I could give every one of you a special Jay Roberts kiss, I would!
• Thank you so much, we wish you all the best in 2012! Do you have any plans visiting Vancouver, Canada?
Is that an invitation? Any of the hot guys at TheBlueFantasy.com want a house guest for a few days? Just let me know when and where and we can have lots of fun. You can show me Vancouver and I'll show you…well…let's talk off-line. J
Of course Jay! We will discuss about this off-line! It's gonna be a HOT party! ;D
JAY ROBERTS
WEB: www.JayRobertsXXX.com
TWITTER: www.twitter.com/JayRobertsXXX
FACEBOOK: www.facebook.com/pages/Jay-Roberts/184057111614278
PLAY>TIME
FACEBOOK: www.facebook.com/PlaytimeProfile
WEB: www.jayrobertsxxx.com/2011/12/08/videos-from-playtime/
DYLAN ROSSER
WEB: www.themaleform.net/home.html