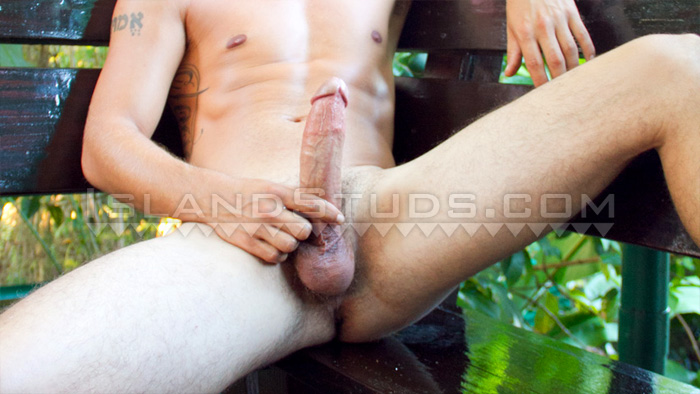 Clayton – Hung Nudist Country Surfer Busts a Messy Load in Hawaii!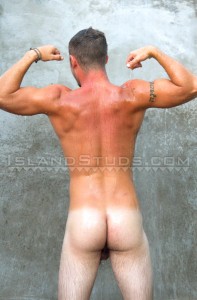 "Yeah they say I'm hung for a white boy!" says sexy Tennessee country boy Clayton with a BIG SMILE in his charming Southern accent while he jerks his BIG HARD FAT DICK. This is Clayton's FIRST SOLO JO FILM ever! He was last seen on Island Studs with his naked buddies: Bubble Butt Dozer and Tall Lanky Hunter in TARGET PRACTICE. If you missed these 3 HOT nudist boys shooting off their BIG GUNS together at an outdoor rifle range – JOIN NOW! That outdoor 3 way GUN ACTION is NOT TO BE MISSED! Clayton has picked up surfing and his tanned tight surfer boy body is in better shape then ever! Check out his PERFECT WHITE boy bubble butt and his super tan body and hairy legs! Watch this Island Stud strip out of his swim trucks and reveal a thick white furry untrimmed cock and balls! Watch as he climbs a fence to trim the banana grove in our tropical garden. We get to see Clayton's tight swimmer body from EVERY imaginable angle as he chops and saws the stalks of the banana plants! Feast your eyes on donkey dong Clayton as his beautiful DICK & sweaty BALLS slap against his thigh while he works! Don't miss sight of his UNTRIMMED hairy cock and nut sack popping out from behind his firm muscle ASS crack as he kneels and crouches. When he finds a passion fruit vine in the garden he starts to harvest the fruit STILL FULLY NAKED for us all to see! Watch Clayton turn around to the camera and take a LONG PISS in the garden.
With a big smile he watches his pee splash onto the ground between his furry legs! Clayton sits down outside on the deck and starts to jerk his monster meat! Watch as this sweet Southern boy looses himself in ecstasy as he pulls on his rock hard cock and big balls! Watching this popular Southern surfer stroking his LONG BOARD is not to be missed!
After playing with his heavy balls, Clayton delivers a VERY MESSY cum shot! Horny Clayton's HARD DICK does not die after he busts his creamy load all over his ripped abs! Watch his rock hard dick bounce around in the water while he takes a HOT STEAMY shower outside in the sun! I ask him to open his towel after he has dried OFF his tan body to show us all that his BIG COCK is STILL SWOLLEN! We are so pleased that country boy Clayton has returned to Island Studs – this time offering us an amazing cum show from a hot young horny surfer! Mahalo Clayton!
Follow us on twitter @Blue_Fantasy
Trailer